JSF - May 3, 2001 - Georgia Theatre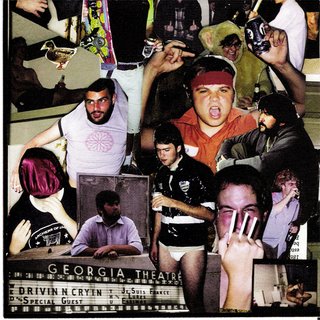 After the terrible news from last week about the Georgia Theatre we figured we'd post the recording of the only time we ever played there. This show was 3 days after Twilight Delirium 2 and we were "good n' practiced". You cant tell from the first song (probably because a shitty band like us wasnt used to such great sound onstage), but stick with it. Its cool to hear that we were testing out what at the time was new material in the Trilogy. Whats funny about this being a few days after Twilight Delirium 2 is that the delirium that year was at the
ULTRAMOD COMPOUND
- Gordon & Raleigh's House. Well, Gordo musta still been drunk on dude's brew from the weekend because he's front and center in the crowd, which lets be honest...was all of 14 people.
Greg Vagen did a fine job recording, thanks to him. (btw, he gave me a DVD of 10 france shows from '01 -'05 which i REALLY need to post...i guess consider this this first of those 10) Thanks again DUDE!
Je Suis France
May 3, 2001
Georgia Theatre
Athens, GA
1. Where Is The Puppet Show? (Art Piece)
2. Sensitive Chris
3. Forklift Rodeo
4. "Griggs Beer Burp"
5. Kick Out The Jams
6. "A Million Hot Dumb Girls"
7. Fantastic Area
8. Snake Pussy
9. Memorial Day
10. "Crog Monologue"
11. Ice Age
12. "Cut Her Balls Off!"
13. Freak Scene
14. "Dark's Uncle vs. Kosovo"
15. Prussia
16. "Beer Sales Were Not High Enough"
17. Dr. Rock

ZIP FILE